Free Shipping Worldwide
7-10 days can be delivered

1-Year Warrenty
Free return and exchange if there is a quality problem

Express Delivery
Optional 2-3 days delivery to UK or US
New Version: Based on customer's suggestion, we have upgraded the Runner Diver's Bluetooth to 5.3, and replaced it with an integrated silicone case. The MP3 mode supports more file formats and customers can choose sequential or random playback. Accessories had been added to enhance sound quality and protection of the headphones.

Professional Waterproof: IP68 wireless sports headphones, waterproof and dustproof features make them ideal choice for sports enthusiasts. Whether swimming, diving, running or cycling, Runner Diver is your perfect sports companion. (Note: Signal transmission will be affected underwater, only MP3 mode supports underwater use; MP3 mode with our waterproof earplugs will provide you with the best swimming experience.)
Open-ear Design: Naenka bone conduction headphones are different from traditional headphones' design. They use vibration to transmit sound all the way through the cheekbone to the inner ear, minimizing the damage to your hearing and guaranteeing you a healthier way of listening. While keeping in touch with the external environment at all times, Runner Diver ensures you safety and brings you the enjoyable hearing feast.
Super Long Playback:  Naenka Runner Diver sports headphones adopt magnetic fast charging technology, which can be fully charged in 1.5 hours, and can be used for 10 hours at 60% volume, fully meeting your needs for headphones outdoors. Simple operation can switch modes, songs, and increase or decrease volume at level which makes you enjoy wonderful music anytime, anywhere.

Skin-friendly & Comfortable: The surface of the headphones is made of soft silicone material, which will not hurt the ears even when worn for a long time. The headphones weigh only 35g, light and portable, very suitable for indoor and outdoor sports, daily exercise, or business trips.
1. Only TF mode supports working underwater.
2. TF mode only supports MP3/M4A/WAV/APE/FLAC format files.
3. Pressing the volume button too quickly will cause the volume to fail to change.
4. After use pls rinse the headphones thoroughly with clean water to remove any residue from the swimming pool, such as saltwater or chlorine.
Bone Conduction Headphones x1
Charging Cable x1
Swimming Earbuds x1
User Manual x1
Microphone Protection Plugs x3
Sound Quality Enhancer x6
Great device, yet far from perfect
The device works well, but few things that need to be fixed:
1. The little red mic cover is very lousy and always detached from its place during swimming. That means that the mic might not survive a long use and will get defected in time.
2. The MP3 player works only by name or shuffle. It's annoying that there's no option to make folders over there.
3. Waterproof? The liability can be unmeasured only after a year or tow of use...
Runner Diver Bone Conduction Cycling Headphones
Great device, but works not more than 4 months
1st one worked for 4 months
2nd worked for 1 month
Had to ask for a refund. Waiting for a device upgrade regarding reliability
Works well with earplugs
I use these for swimming. They work really well when I use earplugs with them.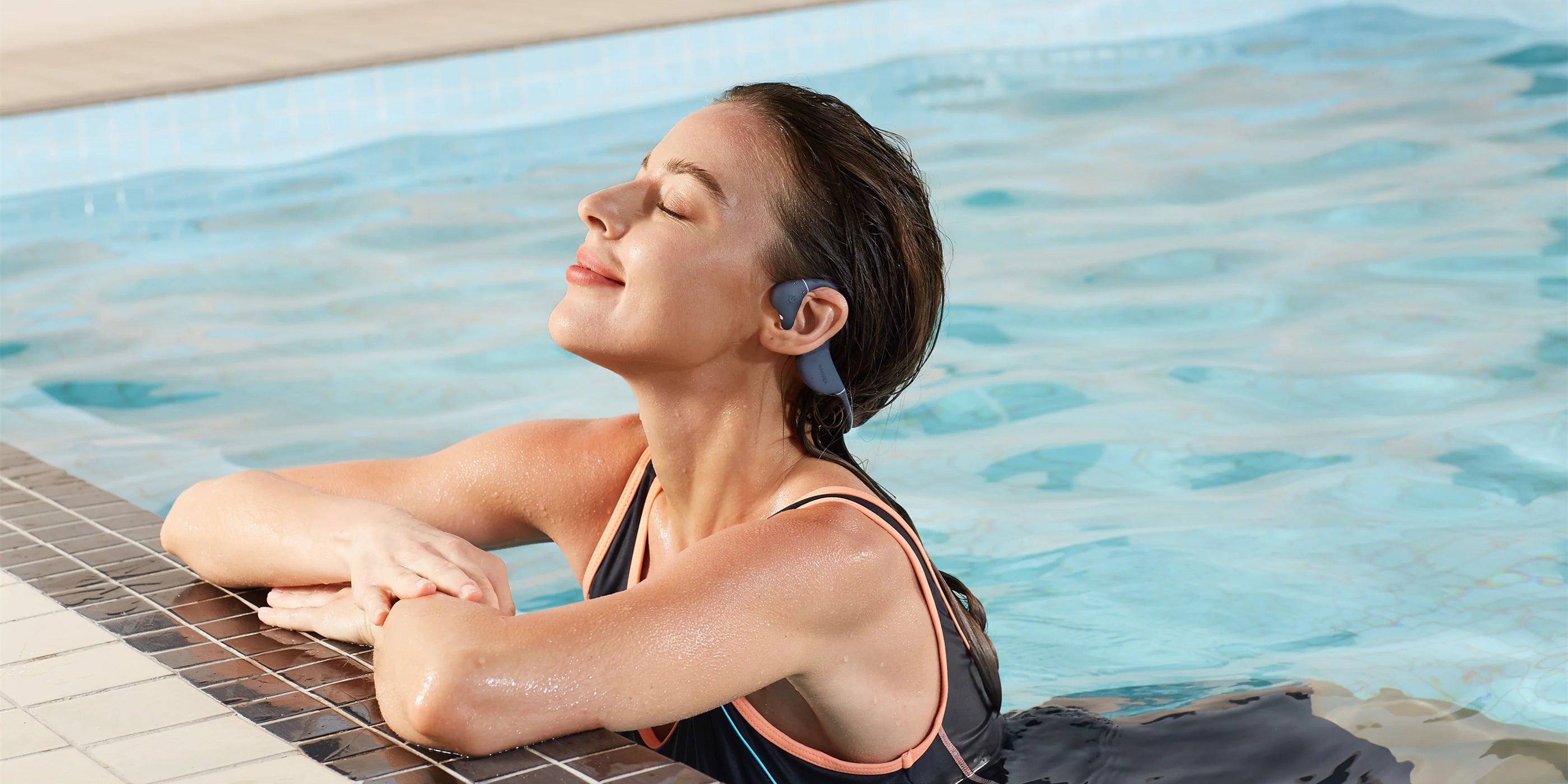 Swimming headphones
Runner Diver has IP68 waterproof, can be submerged in two meters of water for two hours.
Professional
Nank(Naenka) Runner Diver with IP68 waterproof which is the highest level of waterproof are especially designed for swimming. You can use it under water as deep as 2 meters without decreasing headphones' performances. Please use the MP3 mode while swimming since the Bluetooth mode cannot be used underwater.
Bluetooth 5.3
Nank(Naenka) Runner Diver bone conduction headphones are equipped with Bluetooth 5.3 high-performance chips, with faster connection speed and lower delay, bringing you high-decoding music.
cycling headphones
The headphones can fit with your cycling glasses and helmet perfectly, the design of them keeps you in touch with your surroundings, ensures riding safety, and is less affected by wind noise while riding than traditional in-ear headphones.
Technical Aesthetics
The Runner Diver bone conduction headphones were designed by several engineers over several months, combining comfort, practicality and technological aesthetics, and won the 2022 Red Dot Design Award.
Bionic Design
The Bionic Design of the Hippocampus Body
Seahorse body bionic design, super comfortable fit, light and smooth for swimming.
The combination of technology and aesthetics brings a more comfortable wearing experience
Internal Music Storage
Connect to computer via magnetic charging cable, dive into your workout with 16GB of built-in TF storage, holding up to 2400 songs. (TF mode only supports files in MP3/M4A/WAV/APE/FLAC formats)

model
Weight:
Waterproof:
Play Time:
BT Version:
Mode:
R-Diver
35g
IPx8 1st Gen Waterproof
10 Hours
Bluetooth 5.3
Bluetooth/ TF Mode
Shipping
Yes, we ship all over the world. Shipping costs will apply, and will be added at checkout. We run discounts and promotions all year, so stay tuned for exclusive deals.
The delivery time is usually 7-10 business days. Since the shipping address is in the US and Hong Kong, China, if the shipping address is in the US or China, the delivery time is 3-4 days.
Product
Yes, Naenka Runner Diver is specially designed for swimming, We enhanced its water resistance. You can get rid of Bluetooth and mobile phones to enjoy music in MP3 mode.
Naenka Runner Diver has both a Bluetooth mode and an MP3 mode, while the Aftershokz headphones can only perform one of these two functions.
The sound quality of bone conduction headphones is not as good as that of earbud headphones due to the different ways in which sound is transmitted and produced.